Guide to Shooting Ranges and Gun Ranges in Las Vegas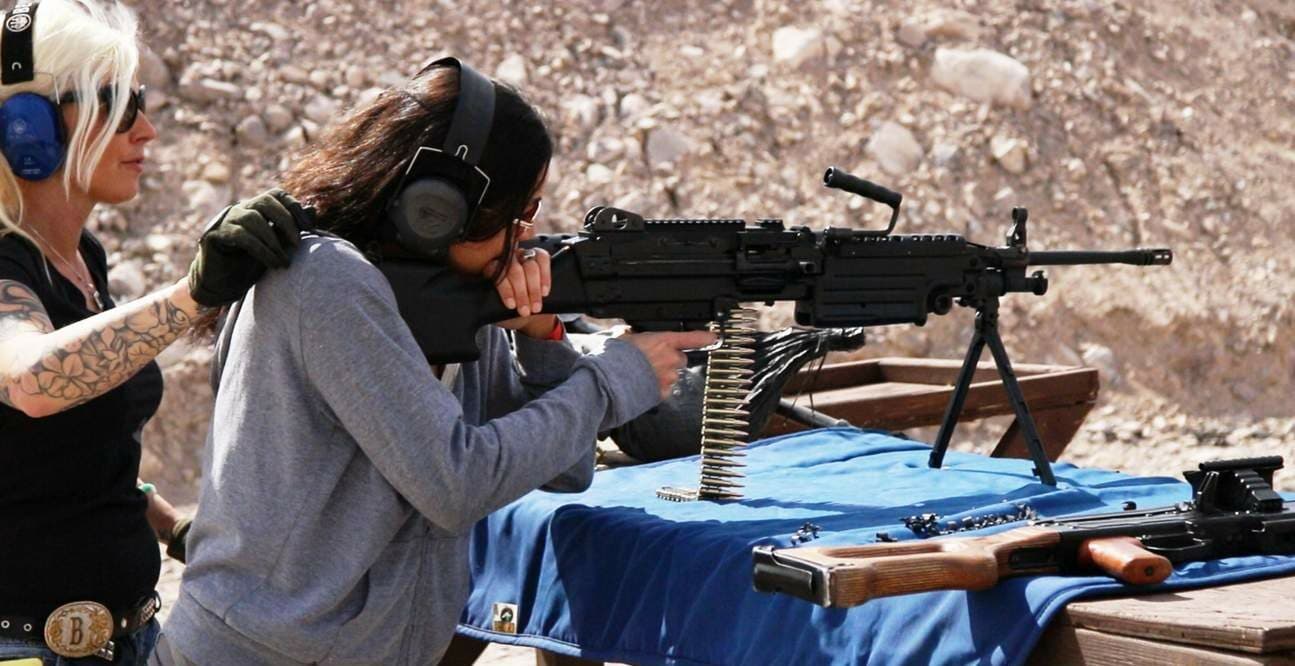 Ever wanted to shoot a fully automatic machine gun? You've come to the right place! You can shoot any type of gun you can think of in Las Vegas and if you really want to, you can even drive a tank! No training required.
Best Gun Ranges in Las Vegas
Battlefield Vegas
Battlefield Vegas' US army humvee picks you up at your hotel to its 5-acre military-style compound near the Strip. The best part about Battlefield Vegas is its amazing collection of guns and vehicles. You get to shoot the most obscure pistols, rifles, shotguns, machine guns, and much more. If you can only choose one gun range to go to, Battlefield Vegas is the best choice.
Feeling a bit adventurous? Try the T-55. You get to drive a real tank and crush a car in the process!
Expert tips:
Humvee pickup is included in every booking. Make sure to book your pickup time at least two hours before. It is worth it!
Explore the grounds to see old tanks, helicopters, and other military vehicles. It's essentially a free museum!
The Range 702
The Range 702 is the best indoor shooting experience in Las Vegas. This gun range is extremely friendly for beginners with absolutely no experience at all. With the most modern facility of all gun ranges in Las Vegas, this range is often the most highly rated.
What we love the most about The Range 702 is the patience and helpfulness of all the instructors. They give you the time to carefully aim and practice your shots. At some other gun ranges, they will rush you and insist on clearing out your bullets as soon as possible. The Range 702 is highly recommended.
Expert tips:
Take advantage of their pre-selected packages. The packages will end up costing you less than choosing your own guns. If you're a fan of first-person shooter games like Call of Duty or Battlefield series, try the "Black Ops" package. If you want to try a powerful sniper rifle, book the "50 Cal Experience" with the Barrett M82. All bookings include free transportation, book your transportation after your online purchase.
The Gun Store
The Gun Store's packages are very competitive: the basic package offers over 120 rounds of ammo. The guns included are M249 SAW (must-do), M4 (classic assault rifle), M9 handgun and a .223 sniper rifle. This is a great package because other gun ranges usually don't include sniper rifles in their pre-selected packages.
The decor isn't as polished as The Range 702 but since you're there to shoot guns, that shouldn't be a big deal.
Expert tips:
Don't feel rushed! We've seen guests shoot hundreds of rounds in a matter of minutes here.
Make sure to use their complimentary shuttle service
Machine Guns Vegas
Machine Guns Vegas is very close to the Strip with 10 full shooting lanes and two lanes in the private VIP rooms. The staff at MGV are very knowledgeable, friendly, and overall simply amazing. Unlike other gun ranges, MGV also allows anyone over 10 years old to shoot a gun (as long as they are accompanied by an adult).
Expert tips:
Taking pictures and videos are encouraged here
We recommend The Gamer's Package and Seal Team VI package for most guests
We suggest avoiding the Beginners Package, 30 rounds are not enough to enjoy the full experience. Triple Threat package is a good affordable package.
Apocalypse Vegas (Airsoft guns)
OK, Apocalypse Vegas is not a real gun range because you are using airsoft guns but it is a lot of fun and very close to the Strip. You'll be briefed by former military operators before jumping in the simulation kicking some zombie ass!
Expert tips:
Apocalypse Vegas is a great option if you've already done one or two gun ranges. If you haven't tried a gun range in Las Vegas yet, try those first.
It's much more fun with a large group. For small groups, go for a regular gun range instead.
Other great gun range options
Top Shot Las Vegas: Another virtual range that is fun with large groups. There's always a deal here – get 34% off here.
Gunship Helicopters: This is a unique experience where you can shoot from a helicopter. Although it's very cool, it is an expensive experience.
Tips to maximize your gun range experience
Bring valid photo ID: In general, you must be at least 18 years old to shoot guns but each gun range may set its own rules. If you live outside the USA, please bring your passport.
Always listen to your instructor: Your instructor will tell you all the important safety precautions while handling real firearms and live ammo.
Sober up: We know, it's Vegas but if the gun range suspects that you've been drinking too much or under the influence, they will not allow you to shoot guns.
Try a variety of guns: The options are nearly endless, choose the type of guns that you've never tried before.
Try the Desert Eagle: A extremely powerful pistol that is simply fun to shoot with!
Take your time to aim: Automatic guns fire extremely fast. It's not fun to empty your bullets and missing the target. Shoot single rounds or small bursts unless you plan to buy additional ammo.
It's LOUD!: Live firearms are REALLY loud. Keep your earmuffs on at all times.
Take photos and videos: Most of the gun ranges will allow you to use your camera phone to capture the moment so you can relive it again at home.
Gun ranges in Las Vegas are a must-do for first-timers and veterans alike. No matter which gun range you choose, there's always a huge selection of guns to choose from.