Guide to All-You-Can-Eat Buffets in Las Vegas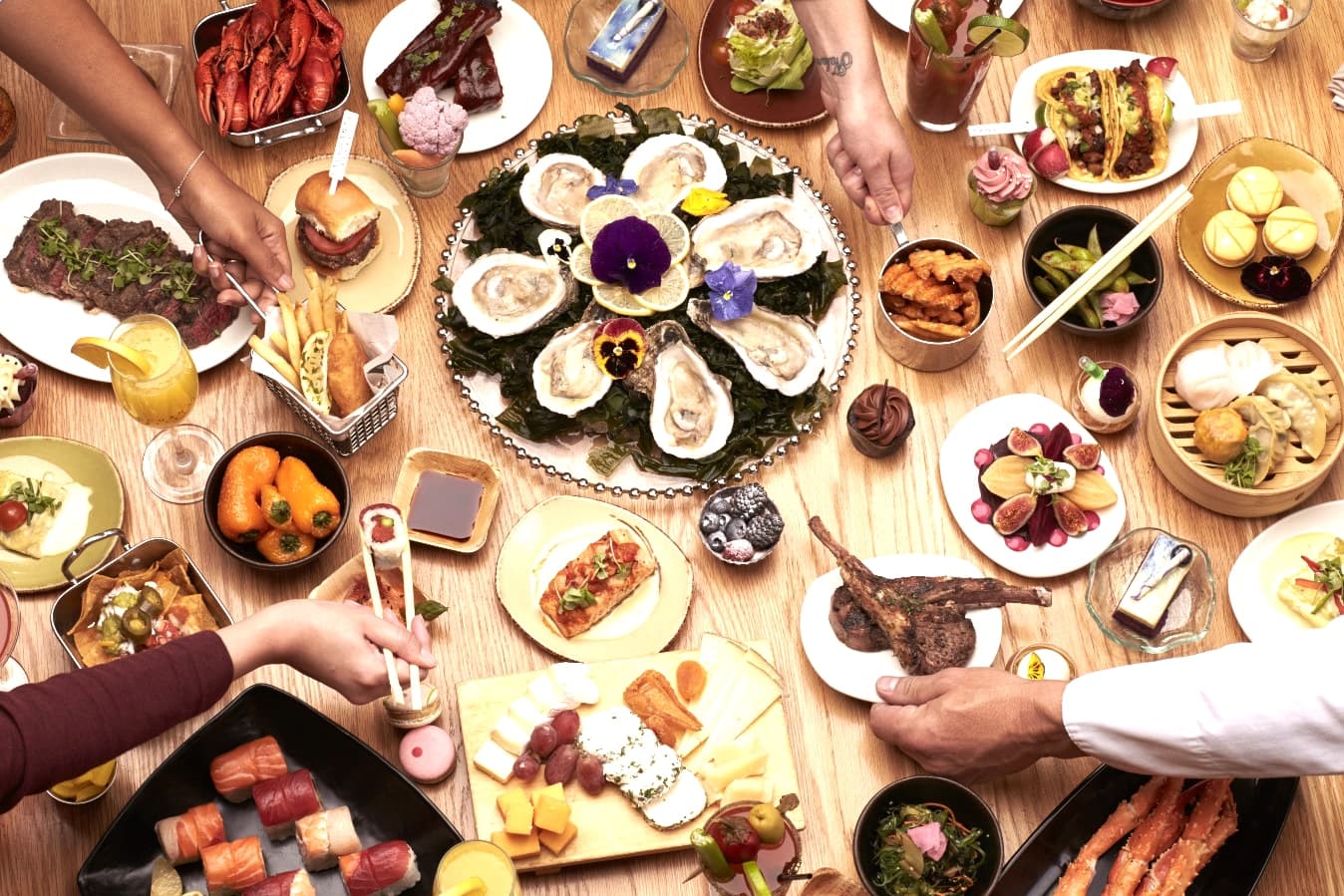 Las Vegas is home to all kinds of buffets and all-you-can-eat (AYCE) restaurants. Don't make the most common mistakes of going to the wrong buffets! Have a look at the best buffets and an in-depth guide on getting the most out of your Las Vegas buffet experience.
Buffet Coupons, Discounts, and Deals
Psst… before we get started, here are the best buffet deals you can find in Las Vegas right now:
Bacchanal Buffet at Caesars Palace
Best Buffets in Las Vegas
Bacchanal Buffet (Strip, Caesars Palace)
The dessert section at Bacchanal Buffet in Las Vegas at Caesars Palace The massive buffet at Caesars Palace has been named #1 Buffet in Las Vegas since its modernization in 2012. This over-the-top buffet includes over 500 gourmet dishes including succulent prime rib, fresh king crab legs, shucked oysters, and many more. It even has a taco station!
If you only plan to go to one buffet in Las Vegas, make sure it is the Bacchanal Buffet.
Expert tips:
There's a great deal going on right now at Groupon with 55% off and line pass included. The line-up is LONG. Consider buying the Line Pass if you're in a hurry. The seafood station is usually the busiest one – take two big plates and grab the seafood you want to minimize the return trips. Make room for dessert! The Bacchanal offers an incredible choice of desserts all-day.
Wicked Spoon (Strip, Cosmopolitan)
Wicked Spoon at Cosmopolitan with individual dishes
Wicked Spoon was the first buffet to really reinvent the casino buffets in Las Vegas. Most dishes are beautifully placed in an individual bowl or plate making is extremely easy and without the need to scoop your food. If you're staying at the Cosmopolitan, we highly recommend visiting the Wicked Spoon.
Expert tips:
Individual bowls and plates are great for presentation but you can't fit many of them on a single buffet plate. Take two big plates! Try the fried chicken and duck wings – they are incredibly crispy and seasoned perfectly The bone marrow ("ossobuco") is incredibly fatty and rich in flavor. It's a bit on the salty side so keep that in mind.
The Buffet at ARIA (Strip, ARIA)
Buffet at the ARIA with meat and pasta offerings
The buffet at ARIA is one of the best in Las Vegas especially for its weekend gourmet dinner. Their fish market has a huge selection of fresh seafood, paella, and oftentimes fresh crab legs. If you're a fan of Indian cuisine, ARIA's buffet has amazing naan cooked in an authentic Tandoor oven along with chicken and delicious Indian vegetable dishes.
Expert tips:
Thinking of going more than once? Consider getting the All-Day Pass valid from Monday to Friday. It allows you to enjoy the buffet all day for only $60. During the weekends and holidays, the line-up is exceptionally long. Currently, there's no express line pass unless you hold a M Life Rewards card with Pearl status. The Buffet at Wynn (Strip, Wynn) The most beautiful buffet in Las Vegas is at the Wynn A beautifully decorated space located in the luxury resort hotel Wynn Las Vegas. It is a bit on the expensive side but the food here is great. Unless you're staying at the hotel, there are usually no discounts available.
Expert tips:
The lighting at this buffet is great for pictures and overall dining experience The highlight of this buffet is its desserts. It is arguably one of the best in all of Las Vegas.
Pampas Brazilian Grille (Strip, Miracle Mile Shops)
Pampas Brazilian Grille with unlimited all-you-can-eat meat Pampas is not your traditional buffet where you go grab your own food. It is a Churrascaria served rodizio style where the servers bring out different types of meat and cut them right in front of you directly onto your plate. This is a South American style restaurant that is amazing for meat lovers.
Conveniently located on the Strip, Pampas is a good option if you're looking for all-you-can-eat meat at a reasonable price. The service can be slow so if you see the meat that you like, ask for more of it – don't wait for the next round.
Expert tips:
NEVER EVER pay full price to eat at Pampas. There's always a deal available like this one.
Try the slow-roasted pineapple and take advantage of their sides / salad bar
You can ask your waiter to cut you the section of the meat you prefer. For example, if you like your beef rare – ask them to cut near the middle rather than the well-cooked side.
Other great buffet options
Cravings at Mirage: A good "bang-for-your-duck" buffet with 11 international cooking stations with unlimited beer and wine included.
Le Village Buffet at Paris: This buffet is recommended for brunch. It has its own crepe station and a large number of choices to get you started in the morning. There's always a deal here – get 33% off here.
The Buffet at Bellagio: A good buffet if you're staying at the Bellagio, otherwise the Wicked Spoon at Cosmopolitan will be a better option.
A.Y.C.E. Buffet at Palms: The newest buffet at the Palms is brightly lit and spacious. Recommended for lunch and brunch.
Studio B Buffet at The M Resort: Far from the Strip but it is an excellent buffet at a reasonable price
Carnival World & Seafood Buffet at Rio: This used to be one of the best seafood buffets but fell out of favor once the buffets on the Strip reinvented their buffets.
All-You-Can-Eat Brunches
Some restaurants will offer an all-you-can-eat option similar to the traditional buffets. The main difference is you will order off the menu instead of going to various buffet stations. AYCE restaurants are a great alternative option because the dishes are made-to-order and fresh!
Here's the best all-you-can-eat weekend brunches:
Buddy V's Ristorante Brunch (Strip – Venetian, Italian cuisine, Saturday-Sunday brunch only)
La Cave at Wynn (Strip – Wynn, Variety food, Saturday-Sunday brunch)
Pronto by Giada (Strip – Caesars Palace, Italian cuisine, Saturday-Sunday brunch). Discounted deal available here.
Giada (Strip – Cromwell, Italian cuisine, Saturday-Sunday brunch)
Note: Giada also has a deal on a Brunch tasting menu here.
Tips before going to a buffet
Drink plenty of water: Hydration helps digestion! Drink water throughout the day. Adding a bit of lemon is known to help reduce bloating too.
Don't starve yourself: Avoiding food during the day is surprisingly a bad idea before the buffet. Your stomach will contract and leave less room for the buffet food. Try eating lightly throughout the day.
Dress for the occasion: Wear loose-fitting clothes, you'll be more comfortable during and after the buffet. If you're scared of possible spills, wear dark colored clothes.
Tips when you're at the buffet
See what the buffet has to offer: Look at all the food options before grabbing a plate. There's nothing worse than finishing your meal and finding out that delicious dish you didn't notice at first.
Prioritize and have a strategy: Now that you know all the food options available, decide on the dishes you want to try first. You won't be able to eat everything so pick and choose the most important items first – you might get full faster than you think. Think of it as your buffet "bucket list"!
Avoid or minimize the useless fillers: Rice, pasta, potatoes, bread, noodles, and egg rolls are examples of food that will quickly fill up your stomach. Don't waste your appetite on these items! If you are really craving them, eat a small amount only.
Go for value: Buffets in Las Vegas are priced fairly high compared to your average buffet. It's a good idea to grab the food items that are usually more expensive than the rest. Think seafood, lobster, crab, prime rib, oysters, and so forth.
Go for uniqueness: If you're from NYC, chances are you will find better pizza at home. In that case, you should skip the pizza at the buffet. Try the food that is unique to the restaurant and that you may not try elsewhere.
Take your time, it's not a sprint: If you eat too fast, you'll get full too fast. Enjoy the experience and take your time because there's no time limit.
Avoid carbonated drinks: Sodas, sparkling water, and any carbonated drinks will oftentimes make you feel bloated. The exception is, of course, champagne – champagne is always a good idea in Las Vegas.
Don't forget dessert: There's so many dessert options available, leave a bit of space for the final course of your buffet experience.
Other useful tips
Please leave a small tip your waiter.
Try food items that are different than your usual meals
Buffet line ups are long! Arrive a bit earlier to avoid the long line-ups or purchase an express line pass.
If you want to save some money, you can pay for the lunch price but arrive just before dinner time. That way, you'll - be able to pay a reduced price while enjoying a larger variety of food options.
In most buffets, kids under 5 will eat for free. Kids between 5 to 12 will get discounted pricing.
Remember… the most important thing is to enjoy your buffet experience! Don't worry too much about following all these tips – just make sure you enjoy the food, the experience, and the rest of your trip.