Best Way to Get Around Las Vegas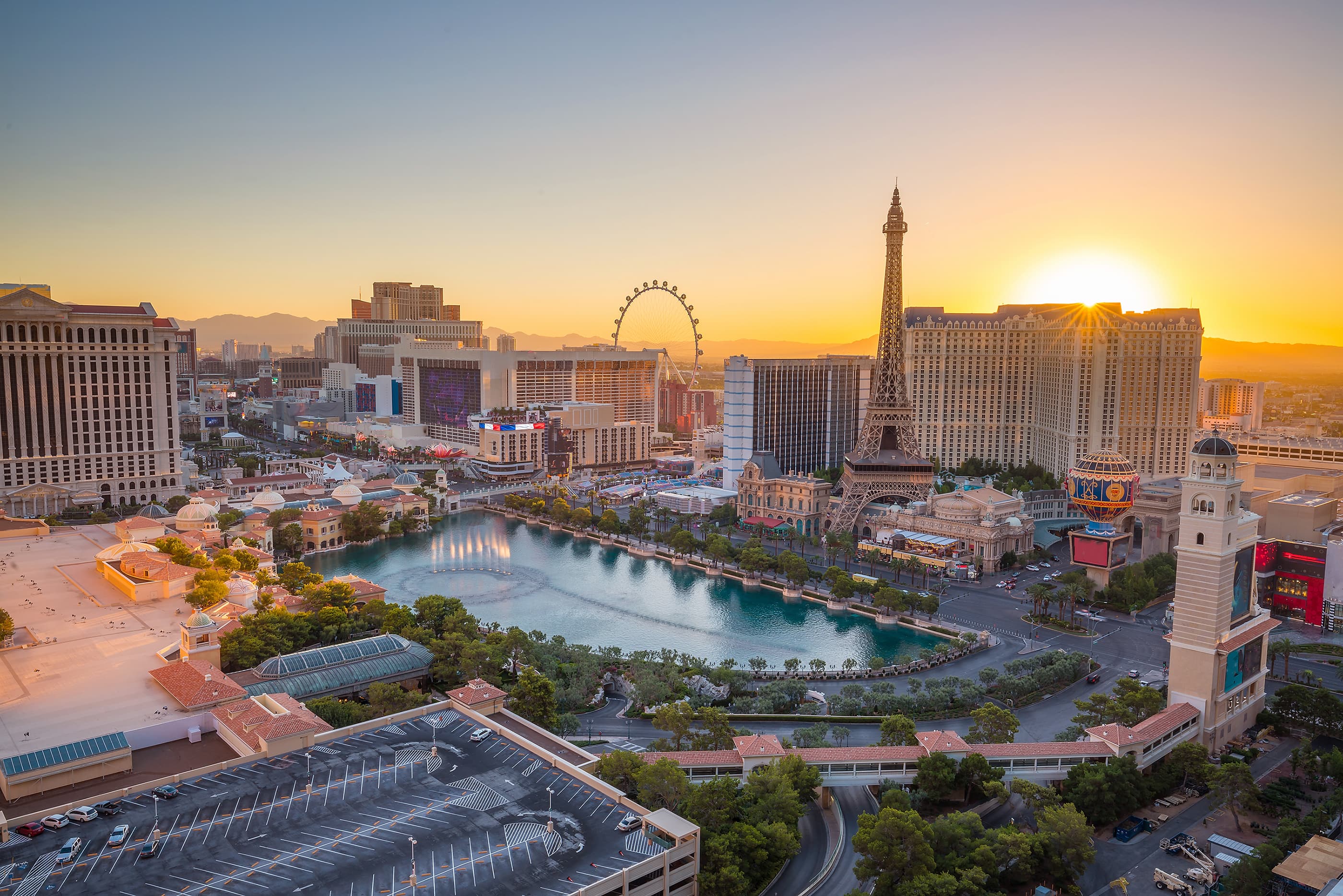 There's plenty of transportation options to get around Las Vegas depending on what you plan to do. With convenient taxis, easy ridesharing apps, and affordable buses, there's no need to rent a car unless you plan to venture off the tourist area.
Here's a list of all the ways to navigate through the city:
Uber or Lyft ("Rideshare")
If you're accustomed to Uber or Lyft, chances are this is the only transportation method you'll need while in Las Vegas. The rideshare apps work extremely well in Las Vegas because every hotel on the Strip has a dedicated Uber/Lyft pick-up area.
Keep in mind that Uber and Lyft drivers are not allowed to stop in the middle of the Strip to pick you up. The rideshare app will tell you exactly where to wait for your driver.
Rideshare is usually cheaper than taxis unless there's surge pricing going on. Surge pricing happens quite often on the Las Vegas Strip! You can either wait a few minutes to see if the demand will die down or hop on a taxi.
Taxi
Taxis are the most convenient transportation option in Las Vegas. Every hotel will have a line of taxis waiting to pick passengers up. There's no need to call a driver and wait for pickup, taxis are generally available instantly.
For airport transfers, we recommend using Uber and Lyft rather than taxis. In the past, taxis in Las Vegas got a bad reputation for "long hauling" tourists from and to the airport.
"Long hauling" is when the taxi driver takes a much longer route from the airport to your destination. This means you will pay about $10 to $15 more for the taxi ride. Since Uber and Lyft entered the market, we've noticed fewer complaints about "long hauling".
Limousine
There are limousines available at most hotels on the Las Vegas Strip and there are numerous companies available to book a ride.
If you want to ride in style, limos are a good option for airport transfers. Your limo driver will wait for you at the airport and handle your luggage. Other than airport transfers, limos are also great for night outs or a small "pre-party" before heading to the night clubs.
Bus
The most affordable option to get around Las Vegas is to use public buses. The Deuce and SDX (Strip & Downtown Express) provide premium frequent service along the Las Vegas Strip and Downtown.
Both buses use a similar route with the SDX making a few fewer stops along the way. The Deuce is the 24-hour double-decker bus that stops at most major Las Vegas Strip hotels.
The SDX bus is recommended as a fast transfer between the Strip, the Las Vegas Convention Center, and Downtown. This express bus runs between 9 am and midnight about every 15 minutes.
There are a few ticket vending machines available along the path but we've found it easier to download their app and purchase passes online instead. Download the official RTC app here.
Current bus pass prices: 2-hour pass: $6 24-hour pass: $8 3-day pass: $20
Getting to and from the airport by bus is possible but not convenient. It will require you to take one or two transfers. You can find the latest up-to-date airport transit routes here.
The Monorail
The Las Vegas Monorail is a great option for people that are going to the convention center. The Monorail is a train that travels every 4-8 minutes along the Las Vegas Strip. If the Strip is jam-packed with cars, the Monorail is a good alternative to get to your destination.
The Monorail is affordable if you plan to use it often during your stay. They offer unlimited day passes: 1-day pass for $13, 2-day pass for $23, 3-day pass for $29, 4-day pass for $36, 5-day pass for $43, and 7-day pass for $56. A single ride costs $5 which isn't worth it when you can share an Uber for roughly the same price.
Don't pay full price! We found a great deal on Groupon for 1-day, 2-day, 3-day, and 4-day Monorail passes here.
Here's the current seven station stops:
MGM Grand
Paris / Bally's
Caesars Palace / Flamingo
The LINQ / Harrah's
Las Vegas Convention Center
Westgate Las Vegas
SLS Las Vegas
Current Monorail hours:
Monday: 7 am – 12 midnight
Tuesday: 7 am – 2 am
Wednesday: 7 am – 2 am
Thursday: 7 am – 2 am
Friday: 7 am – 3 am
Saturday: 7 am – 3 am
Sunday: 7 am – 3 am
Car Rentals
We really wish the car rental center was located at the airport! This is the biggest bummer with renting a car in Las Vegas if you're arriving by air. To rent a car, you must take a shuttle bus from the airport that will bring you to the location to rent and pick up your car rental.
If the idea of waiting for a shuttle bus, 10-minute drive, waiting to pick up your car, driving to your hotel, and finding parking doesn't sound convenient for you; you've got three options.
Alternative Locations
Almost every hotel on the Las Vegas Strip has a car rental center. The most popular ones are Avis, Hertz, and Enterprise Rent-A-Car.
Get an Uber or Lyft, check-in to your hotel, and drop your luggage first. If it's your first time in Las Vegas, explore the Strip and its surroundings. At this point, most of our readers find out that a car would be a hassle and end up using Uber and taxis.
If you still need a car, compare the car rental prices online before making a decision. Once you are ready, head over to the various car rental located inside the hotels to pick up your car.
Turo: Car Rental Alternative Turo
As an alternative to car rental companies, you can also use the Turo car-sharing app. You'll be able to find private car owners who are renting out their cars.
The greatest part about Turo is the convenience: you don't need to wait in line for a car and you get to pick exactly which car you'll be driving.
Skip the car If you're not planning to venture out of the Strip and Downtown, a car is really not necessary. Uber/Lyft will be your best friends during your stay.
Keep in mind that most hotels on the Strip will charge you a fee to charge your car. Some hotels will waive this fee if you're staying at the hotel.
Walking
If you're visiting Las Vegas for the first time, you should definitely take the opportunity to walk on the Strip and Downtown. There is so much to see and it's much easier to take pictures and videos.
Be warned: due to the sheer size of the hotels, everything may look close but they are deceptively further than it seems.
Trams & Free Shuttles There are 3 free trams connected to hotels on the Las Vegas Strip:
Mandalay Bay – Excalibur – Luxor Tram
Located in the South of the Strip, this tram connects the three hotels. This tram is especially useful for Mandalay Bay guests because the hotel is a bit further down on the Strip.
Hours of operation: Thursday – Saturday: 9:00 a.m. – 2:30 a.m. Sunday – Wednesday: 9:00 a.m. – 12:30 a.m.
ARIA Express Tram
This tram connects ARIA, Bellagio, Vdara, Park MGM, and The Shops at Crystals. A convenient tram located in the middle of the Strip near the CityCenter.
If you're headed to the Cosmopolitan, stop at the Bellagio or ARIA station and walk from there.
Hours of operation: Daily – 8:00 a.m. – 4:00 a.m.
Mirage – Treasure Island Tram
This tram is only for two hotels located in the North of the Strip. In our opinion, it's not particularly necessary unless you're staying at either Mirage or Treasure Island ("TI").
Hours of operation: Daily – 7:00 a.m. – 2:00 a.m.
If you booked attractions such as gun ranges or tours, chances are there's a free round-trip shuttle included that will bring you from your hotel to the attraction and back.
Tips & Recommendations
Staying on the Strip
If you're planning to stay mostly on the Strip, we suggest to walk and use Uber or Lyft when needed. You can also use the bus which comes around very often on the Strip.
The Strip is heavily congested during peak hours and traffic is a nightmare. Surge pricing happens quite often in Las Vegas so if the destination is not too far, walking can oftentimes be the better choice.
Most hotels on the Strip now charge for parking, even for hotel guests. During major holidays and special events, renting a car is not recommended – you'll spend more time stuck in traffic than enjoying the Strip!
Staying in Downtown
If you're staying downtown, you can walk to most destinations and the Fremont Street Experience is a pedestrian-only zone. Call an Uber or Lyft if you plan to wander around.
Exploring beyond the tourist areas If you plan to visit the numerous entertainment options off the Strip and outside of Downtown, you definitely should consider renting a car. Outside the tourist areas, Las Vegas is built around cars and it is not pedestrian-friendly at all.
Visiting Grand Canyon, National Parks, and more
There are dozens of all-inclusive tours available to Grand Canyon, Hoover Dam, Red Rock Canyon, and other nearby attractions.
If you're not interested in tours, renting a car is your best option to visit those attractions. Make sure your car rental allows you to drive beyond Nevada if you plan to visit Grand Canyon which is located in the state of Arizona.